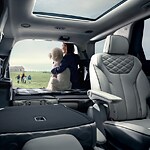 The 2020 Hyundai Palisade is a remarkable automobile because it offers so many wonderful qualities. This popular three-row SUV comes in front-wheel drive, but there's an option for upgrading to all-wheel drive. Let's jump in for more valuable information.
The 2020 Hyundai Palisade comes equipped with a boat-load of advanced safety features. Hyundai utilizes ultrasonic sensors to scan the roads for any present danger. If danger is detected, then the driver will be immediately alerted. Some of the features are Lane Keeping Assist, Pedestrian Detection, High-Beam Assist, and Driver Attention Warning. On top of that, this popular SUV comes with a built-in intercom system as well as a Blind Spot-View monitor. The Palisade has a 3.8-liter V6 that can generate up to 291 horsepower and produce more than 262 pound-feet of torque.
Come and test drive this wonderful SUV at our dealership today. Our reps are friendly and knowledgeable.