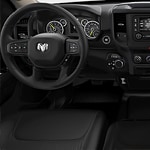 Safety is a top priority for Richmond families, yet accidents still happen. The Ram 1500 is a popular light-duty pickup truck designed with safety in mind. The following two features can help protect your family from crash-related injuries.
As you fly through Sterling, VA streets traveling between job sites or sports practices, you need a vehicle that can withstand a possible crash. Since 98% of the Ram 1500's frame is high-strength steel, it's made to last. This pickup truck has what it takes to protect passengers and cargo safe.
Six airbags around the cabin cushion crash impact for passengers in both the front and back seats. The two front airbags are outfitted with intelligent vents that adjust cushioning according to each passenger's size and the force of the crash. Taking a Brown's Car Store test drive will allow you to see these features in action.