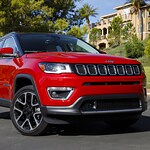 The new Jeep Compass owes much of its popularity today to its roomy and conveniently designed interior. The designs found on the inside of the new Compass make this Jeep compact SUV practical and fun to drive. Learn more about the layout of the Compass interior today.
It offers ample cargo space for all of the gear that you need to haul. You get dozens of cubic feet of storage space with the back row of seats laid down. Even if the back row of seats are up, they still leave plenty of room for groceries, backpacks, luggage, and more.
The new Jeep Compass also has a power liftgate that is fast and easy to maneuver. You simply tap on the gate to lift it up. You do not have to unlock it with your keys or tug on it like you would other lift gates found on older models.