Best Cars of 2013 - Brown's Has You Covered!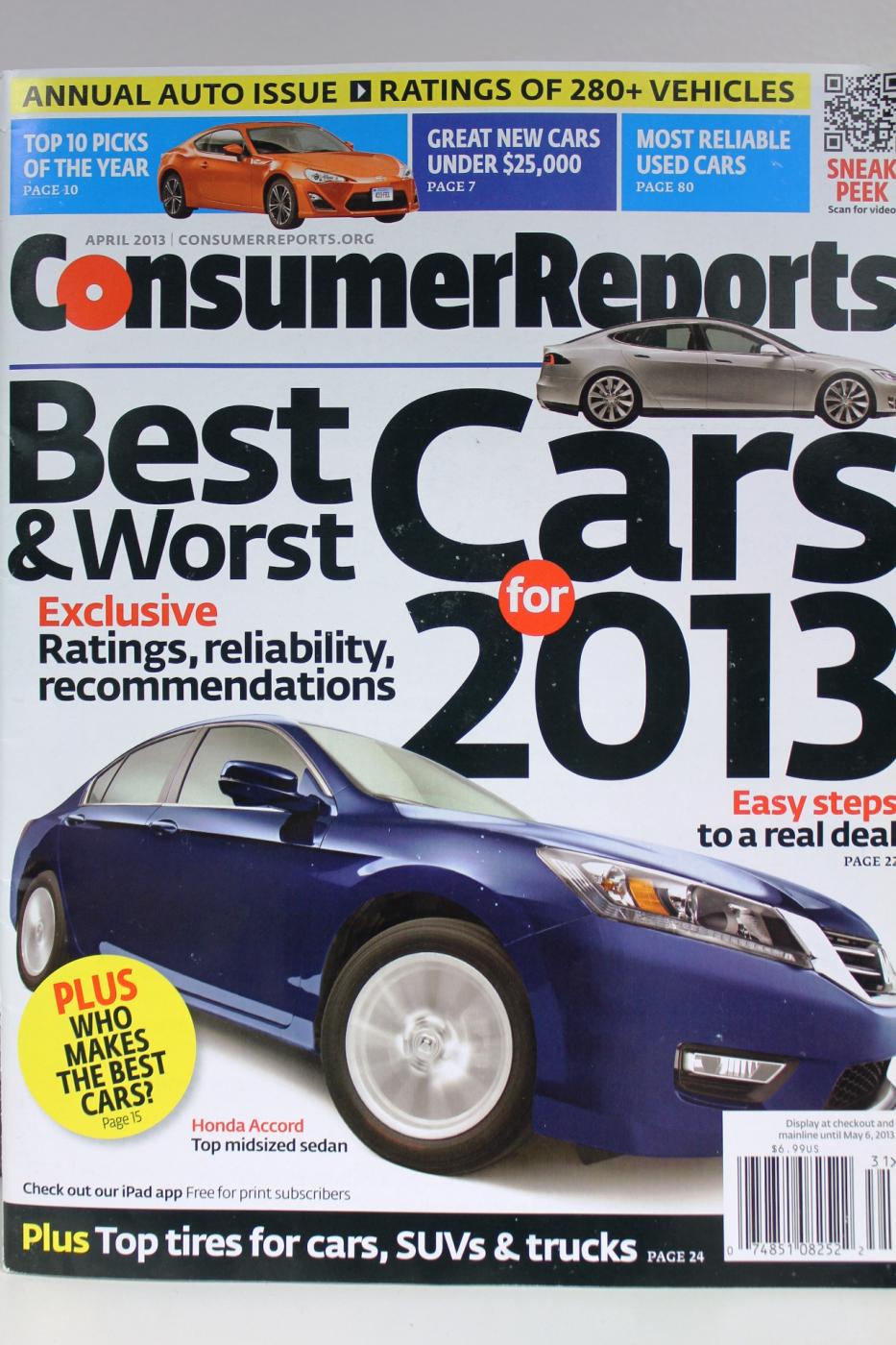 Consumer report just released their list of the top cars for 2013. The reviews of the best cars in ten different categories can be found in the upcoming April 2013 magazine issue of Consumer Report. Here at Browns Automotive we are proud to provide you the opportunity to purchase many of the winners.
The cars are ranked by Consumer Report using three categories; a road test, reliability, and safety. To find out more about how each model met the criteria and other information you can check it out HERE.
Honda was named best in three different categories. The Honda Accord received the honor for best midsized sedan. Honda decided to redesign the Accord for 2013 and the results were outstanding. Its roomier, fun to drive, well equipped and gets great gas mileage. The Accord's four-cylinder engine can get 30-40 mpg and has a reasonable price range of $23,000 to $30,000. Honda also won in small SUV with the CR-V. It received good ratings in fuel economy, braking, and reliability, and has a responsive powertrain and a roomy interior. The CR-V comes in with a well-priced msrp of $26,000. The Odyssey takes the award of best minivan. With a backup camera standard on all models safety is now a top priority. It has a roomy and quiet interior with a well-sized rear seat and is quit competitive with other minivans in mpg. Check out Brown's Honda dealerships in Glen Burnie, Arlington, and Charlottesville to get your Accord, CR-V or Odyssey today!
For sports cars the Scion FR-S and Subaru BRZ shared the honor as tops. Both models have sharp handling, excellent braking, impressive acceleration, good gas mileage and are priced at a reasonable cost. Subaru also took home honors in best compact car with the Impreza. The Impreza comes in both sedan and hatchback models and is a very sensible car with its price in the low $20,000s. The gas mileage is impressive, has great handling, a big interior and rear seating with easy to use controls and good visibility. Please visit our Scion dealerships in Glen Burnie and Charlottesville to get your Scion FR-S and head to our Subaru dealership in Manassas for the new Subaru BRZ.
Hyundai always manages to find its name on some award nowadays and this year is no different. For best budget car the Hyundai Elantra was named tops in its class. For under $20,000 you can get amazing gas mileage, a roomy interior, excellent handling, a smooth comfortable ride and lots of gadgets. Upgrade to the GT and the options grow. Brown's has all the Elantra models at the Hyundai dealerships in Manassas and Leesburg; the hardest part is deciding which model to get!
Toyota ended up taking home two victories. The Prius was named best green car for its mix of fuel efficiency, practicality and affordability. With its roomy interior, comfortable ride and the hatchback versatility it is definitely a car to check out this year. The Highlander was awarded the best midsized SUV. It is a quiet car with a well-finished interior, smooth handling and a competitive fuel economy for its class. Check out our Toyota dealerships in Glen Burnie and Charlottesville to find out more about the Highlander and Prius!
So there you have it. Quite a list of best cars to consider for 2013 and Brown's has them all at our dealerships around the area. Hurry in to take a look!